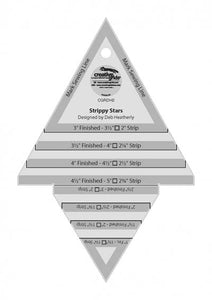 Creative Grids Strippy Stars Tool: 5" x 7-1/2" Quilt Ruler
Make star point units quickly and easily in 8 different finished sizes from 1-1/2 to 4-1/2 inches. The triangle units are created with squares and strips - without ever cutting a triangle! The cutting requirements for each is printed right on the tool! Units float so you won't cut off the points when sewing the blocks together.

The tool slides easily over the fabric until pressure is applied. Then, our exclusive gripper holds the fabric in place while cutting, eliminating slipping and miss-cuts! It comes with fully illustrated step by step instructions or view a video demonstration.